Products

ZRT Series Floor Level Container Tilters
ZRT Series Floor Level Container Tilters

Available in 2,000 or 4,000 lb. capacities
Custom platform sizes
Internal 1 HP 115/1/60 power unit
Floor level at lowered height
Pallet jack accessible
50" I.D. x 30-1/8" side height
Optional power units available
6" flexible safety toe guard
Hand-control with magnetic back
Custom designs available
Have a question or comment?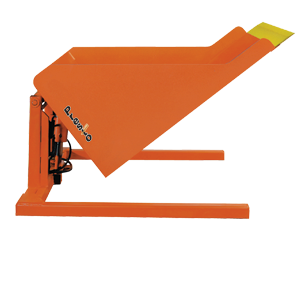 Tilt containers weighing up to 4,000 lbs. to any angle between 0˚ and 89˚ for improved access without bending and stretching. Floor level design allows containers to be placed on the tilter with a hand pallet truck making them perfect for facilities that don't have a fork lift or stacker.
An additional advantage of hand pallet truck accessibility is the opportunity for workers to function at their own pace without having to wait for a fork lift and certified operator to load the lifts for them.
Model
Number
Tilt
Capacity
Low
Height
Degree
of Tilt
Dimensions
W x L
Platform
Size
Lifting
Speed
Shipping
Weight
ZRT Series
ZRT50-20
2000 lbs
3/8"
89°
59 x 67"
50 x 48"
26 sec
1245 lbs
ZRT50-40
4000 lbs
3/8"
89°
59 x 67"
50 x 48"
28 sec
1295 lbs