Products

M800 Series Hand Operated Stackers
M800 Series Hand Operated Stackers

2,000 lb. capacity
50", 64", and 76" lift heights
1-1/2" thick x 3" wide adjustable solid steel forks
Forks adjust from 6-1/2" to 26-1/2" O.D.
14" high fork backs
Slip-on 32" x 30" platform available
Hand-operated pump features variable control hand release lowering
Lift rise approximately 1/2" per stroke
Perforated metal screen
Foot-operated floor lock
Dual leaf-type chain with 8250 lb yield point
High-impact, floor-saving phenolic wheels
Have a question or comment?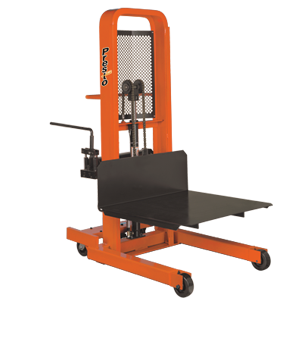 These hand operated stackers use a two-piston hand pump mechanism to provide effortless lifting of loads up to 2,000 lbs. They are equipped with adjustable solid steel forks (a slip-on platform is available).
M800 Series Stackers have a lowered height of 3 1/4" and are available with lift heights of 50", 64" and 76".
Model
Number
Load
Capacity
Load
Center
Raised
Height
Low
Height
Dimensions
H x W x L
Base Legs
I.D./O.D.
Wheel Dia.
Front/Rear
Shipping
Weight
M800 Series - Adjustable 30" Forks (Straddle)
M852-2000
2000 lbs
18"
50"
3 ¼"
66 x 33 x 51"
26" / 32"
5" / 5"
460 lbs
M866-2000
2000 lbs
18"
64"
3 ¼"
80 x 33 x 51"
26" / 32"
5" / 5"
480 lbs
M878-2000
2000 lbs
18"
76"
3 ¼"
92 x 33 x 51"
26" / 32"
5" / 5"
500 lbs

OPTIONS & ACCESSORIES

WHEELS & CASTERS
Standard wheels are phenolic plastic. Optional wheels are available. Consult Sales for details.

REVERSED / INVERTED FORKS
Ideal for overhead installation. Forks can be modified in an inverted position which effectively increases the stackers lowered height and raised height.

SLIP-ON PLATFORMS
Platforms slide on over existing forks. 3 Sizes are available - 24" x 24" for 15" Load Centers, 32" x 30" for 18" and 20" Load Centers
and 40" x 36" for 24" Load Centers

MODIFIED PLATFORMS
Customized for a specific application, modified platforms include extended lengths or widths, cutouts, special shapes, floor level access, bridge plates, non-skid surfaces and more.

EXTENDED BACKPLATE
Wider of higher backplates to accommodate special lifting requirements.

BOOM WITH HOOK
Fork carriages can be equipped with a boom and hook for lifting and suspending loads with chains or lifting straps.

RAM
A Cylindrical Ram mounted to the fork carriage for handling rolls, and coils. Rams up to 30" long available.

DRUM GRABBER DG-30
Automatically grabs 30 or 55 gallon drums for hanling and stacking in the vertical position. Mounts on the back plate of any straddle base, fork model stacker. Parrot beak mechanism works with steel or fiber drums.

ROLLER BED
Excellent for transferring heavy object to or from a stacker with minimum effort. 3" rollers can be oriented front-to-back or side-to-side. Maximum capacity is 1,000 lbs. Requires a 24" load center.

P-6 DIE PULLER
Roller bed equipped with a hand operated winch with cable and hook. Maximum Capacity is 1,000 lbs. Requires a 24" Load Center

FIRE RESISTANT HYDRAULIC FLUIDS
Water and glycol fluids are fire resistant, non-explosive and non-toxic. Approved by Factory Mutual Insurance Engineering Laboratories.

HEIGHT
Standard lift heights can be decreased to meet special requirements.