Products

XP/WXP Manual Foot Pump Portable Lifts
XP/WXP Manual Foot Pump Portable Lifts

Foot-operated hydraulic pump
Hand-release for lowering
Two fixed & two swivel 5" x 2" phenolic casters
XP24-20 and XP36-20 have 6" casters
Hinged platform cylinder access
Foot-operated floor lock
Oversized and custom platforms available
Optional casters available
Custom designs available
Have a question or comment?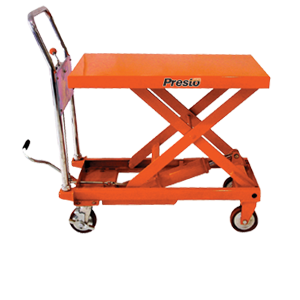 These compact and extremely maneuverable scissor lifts improve efficiency and worker safety. Ideal for use as portable workstations, machine feeding tables and load transporters. A simple to use foot pump raises loads weighing up to 1,500 lbs. to heights up to 45-1/4".
Several platfom sizes are available from 20" x 32" up to 48" x 54" to handle a variety of items.
Model
Number
Load
Capacity
Raised
Height
Lowered
Height
Standard
Platform
Maximum
Platform
Lifting
Strokes
Shipping
Weight
XP24 Series - 23" Travel
XP24-300
300 lbs
33"
10"
20" x 32"
20" x 32"
12
250 lbs
XP24-600
600 lbs
33"
10"
20" x 32"
20" x 32"
25
260 lbs
XP24 Series - 24" Travel
XP24-10
1000 lbs
33"
9 ¼"
24" x 36"
30" x 42"
35
410 lbs
XP24-15
1500 lbs
33"
9 ¼"
24" x 36"
30" x 42"
55
415 lbs
XP24-20
2000 lbs
41 ½"
17 ½"
24" x 36"
48" x 48"
85
750 lbs
XP36 Series - 36" Travel
XP36-10
1000 lbs
45"
9 ¼"
24" x 48"
30" x 54"
46
440 lbs
XP36-15
1500 lbs
45"
9 ¼"
24" x 48"
30" x 54"
69
445 lbs
XP36-20
2000 lbs
53 ½"
17 ½"
24" x 48"
48" x 60"
130
860 lbs
WXP24 Series - 24" Travel
WXP24-10
1000 lbs
33 ¼"
9 ¼"
36" x 36"
42" x 42"
35
450 lbs
WXP24-15
1500 lbs
33 ¼"
9 ¼"
36" x 36"
42" x 42"
55
455 lbs
WXP36 Series - 36" Travel
WXP36-10
1000 lbs
45 ¼"
9 ¼"
36" x 48"
48" x 54"
46
480 lbs
WXP36-15
1500 lbs
45 ¼"
9 ¼"
36" x 48"
48" x 54"
69
485 lbs