Products

XBP/WBP Series DC Electric Lift
XBP/WBP Series DC Electric Lift

5" x 2" high-impact phenolic casters, 2 fixed, 2 swivel
Easy-to-service internal power unit
1/2" steel plate scissor legs
12V AGM cell battery
Built-in 5 amp battery charger
Optional power units available
Hinged platform for cylinder/power unit access
Foot-operated safety floor lock
Gravity lowering on XBP Series
Powered lowering on WBP Series
Have a question or comment?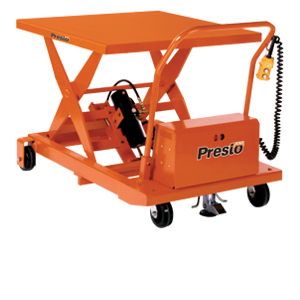 These portable scissor lift tables offer the added convenience of powered lift. Hand pendant control allows users to raise or lower loads simply by touching a button. DC power is supplied by a 12 volt gel cell battery with built-in 5 amp built in charger
Capacities of 1,000, 1,500 and 2,000 lbs. with lifting heights up to 53 12" are available.
Model
Number
Load
Capacity
Raised
Height
Lowered
Height
End/Side
Capacity
Std. Base
& Platform
Maximum
Platform
Lifting
Speed
Shipping
Weight
XBP24 Series - 24" Travel - 24"W x 36"L Platform
XBP24-10
1000 lbs
33"
9 ¼"
1000 lbs
24" x 36"
30" x 42"
18 sec
470 lbs
XBP24-15
1500 lbs
33"
9 ¼"
1500 lbs
24" x 36"
30" x 42"
27 sec
475 lbs
XBP24-20
2000 lbs
41 ½"
17 ½"
2000 lbs
24" x 36"
48" x 48"
15 sec
700 lbs
XBP36 Series - 36" Travel - 24"W x 48"L Platform
XBP36-10
1000 lbs
45"
9 ¼"
1000 lbs
24" x 48"
30" x 54"
26 sec
500 lbs
XBP36-15
1500 lbs
45"
9 ¼"
1500 lbs
24" x 48"
30" x 54"
41 sec
505 lbs
XBP36-20
2000 lbs
53 ½"
17 ½"
2000 lbs
24" x 48"
30" x 54"
22 sec
700 lbs
WBP24 Series - 24" Travel - 36"W x 36"L Platform
WBP24-10
1000 lbs
33 ¼"
9 ¼"
1000 lbs
36" x 36"
42" x 42"
18 sec
590 lbs
WBP24-15
1500 lbs
33 ¼"
9 ¼"
1500 lbs
36" x 36"
42" x 42"
27 sec
610 lbs
WBP36 Series - 36" Travel - 36"W x 48"L Platform
WBP36-10
1000 lbs
45 ¼"
9 ¼"
1000 lbs
36" x 48"
48" x 54"
26 sec
650 lbs
WBP36-15
1500 lbs
45 ¼"
9 ¼"
1500 lbs
36" x 48"
48" x 54"
41 sec
675 lbs