Products

AXS Series Heavy-Duty Scissor Lifts
AXS Series Heavy-Duty Scissor Lifts

Standard Capacities: 2,000, 4,000, and 8,000 lbs.
Standard Platforms Range from 36" x 48" up to 48" x 60"
Custom Platform Available
Low Height: 12" - Raised Height: 36" - Vertical Travel: 24"
Air Requirements: 80 PSI at 15 CFM
Transportable Versions are Available
No Floor Lagging Required
Have a question or comment?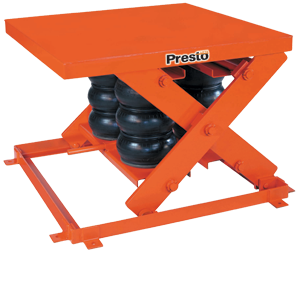 These heavy-duty pneumatic scissor lift tables feature additional airbags to handle increased capacity - up to 8,000 lbs. They require no electricity and can be used anywhere that shop air is available.
Typically pneumatic lift tables require less maintenance than conventional lift tables and because there is no hydraulic fluid there is no potential for process contamination.
Lifting and lowering is controlled by a standard pedestal control. Foot control is available as a standard option.
A pressure relief valve is standard and actuators come with a lifetime warranty.
Model
Number
Load
Capacity
Raised
Height
Lowered
Height
Vertical
Travel
Base Size
W xL
Platform
Size W x L
Shipping
Weight
AXS20 Series
AXS20-3648
2000 lbs
36"
12"
24"
36" x 48"
36" x 48"
855 lbs
AXS20-4848
2000 lbs
36"
12"
24"
36" x 48"
48" x 48"
915 lbs
AXS20-4856
2000 lbs
36"
12"
24"
36" x 48"
48" x 56"
955 lbs
AXS20-4860
2000 lbs
36"
12"
24"
36" x 48"
48" x 60"
1040 lbs
AXS40 Series
AXS40-3648
4000 lbs
36"
12"
24"
36" x 48"
36" x 48"
1020 lbs
AXS40-4848
4000 lbs
36"
12"
24"
36" x 48"
48" x 48"
1040 lbs
AXS40-4856
4000 lbs
36"
12"
24"
36" x 48"
48" x 56"
1115 lbs
AS420-4860
4000 lbs
36"
12"
24"
36" x 48"
48" x 60"
1135 lbs
AXS60 Series
AXS60-4848
6000 lbs
36"
12"
24"
48" x 48"
48" x 48"
1070 lbs
AXS60-4856
6000 lbs
36"
12"
24"
48" x 48"
48" x 56"
1315 lbs
AXS60-4860
6000 lbs
36"
12"
24"
48" x 48"
48" x 60"
1335 lbs
AXS80 Series
AXS80-4848
8000 lbs
36"
12"
24"
48" x 48"
48" x 48"
1340 lbs
AXS80-4856
8000 lbs
36"
12"
24"
48" x 48"
48" x 56"
1415 lbs
AXS80-4860
8000 lbs
36"
12"
24"
48" x 48"
48" x 60"
1435 lbs