UT90 Series Upenders

2,000, 4,000 or 6,000 lb. capacity
Tilt angle 90˚
48" x 84" platforms with available platens up to 48" x 48"
Optional forks available in place of platen
Platform modification including V-Cradles are available.
Have a question or comment?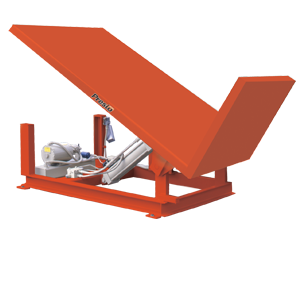 Presto UT90 Series Upenders with 90˚ tilt are used to re-orient loads from horizontal to vertical positions. They are ideal for changing rolls or coils from "eye-to-the-sky" to "eye-to-horizion" quickly and easily without damage.
They are equipped with 48" x 84" platforms and can be equipped with platens up to 48" x 48". Optional forks can be specified in place of a platen.
Model
Number
Load
Capacity
Bed/Low
Height*
Platen
Height*
Degree
of Tilt
Maximum
Platform
Maximum
Platen
Standard
Voltage
UT90 Series
UT90-20
2000 lbs
25"
5"
90°
48 x 84"
48 x 48"
460/3/60
UT90-40
4000 lbs
25"
5"
90°
48 x 84"
48 x 48"
460/3/60
UT90-60
6000 lbs
25"
5"
90°
48 x 84"
48 x 48"
460/3/60