Products

TT Series Standard Tilt Tables
TT Series Standard Tilt Tables

1,000, 1,500, 2,000, 4,000 or 6,000 lb. capacities
30˚, 45˚ or 60˚ Tilt Angles
Internal 1/2 HP 115/1/60 power unit
Optional power units available
Powered down cylinders on TT60
Custom platforms available
8" lip on TT30 and TT45 Series, 12" lip on TT60 Series
Extended lips up to 24" are available
Hand-held pendant control
Have a question or comment?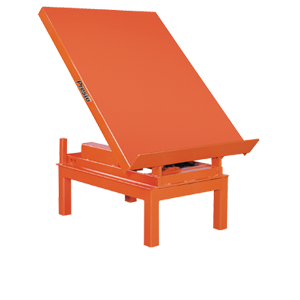 These fixed height tilters can be mounted on legs, workbenches or directly on the floor. They are ideal for odd shaped or sized containers or odd loads. They are also useful for positioning items for wiring, assembly and fabricating applications.
TT Series Fixed Height Tilters are available with 30˚, 45˚ or 60˚ of tilt and can handle loads up to 6,000 lbs.
Model
Number
Tilt
Capacity
Low
Height
Degree
of Tilt
Standard
Base
Standard
Platform
Maximum
Platform
Lifting
Speed
Shipping
Weight
TT30 Series
TT30-10
1000 lbs
6 ½"
30°
24 x 30"
24 x 36"
36 x 48"
15 sec
310 lbs
TT30-15
1500 lbs
6 ½"
30°
24 x 30"
24 x 36"
36 x 48"
15 sec
325 lbs
TT30-20
2000 lbs
7 ½"
30°
24 x 36"
24 x 36"
50 x 50"
10 sec
530 lbs
TT30-40
4000 lbs
7 ½"
30°
24 x 36"
24 x 36"
50 x 50"
11 sec
520 lbs
TT30-60
6000 lbs
7 ½"
30°
24 x 36"
24 x 36"
50 x 50"
14 sec
530 lbs
TT45 Series
TT45-10
1000 lbs
6 ½"
45°
24 x 30"
24 x 36"
36 x 48"
22 sec
310 lbs
TT45-15
1500 lbs
6 ½"
45°
24 x 30"
24 x 36"
36 x 48"
22 sec
325 lbs
TT45-20
2000 lbs
7 ½"
45°
24 x 36"
24 x 36"
50 x 50"
15 sec
510 lbs
TT45-40
4000 lbs
7 ½"
45°
24 x 36"
24 x 36"
50 x 50"
16 sec
520 lbs
TT45-60
6000 lbs
7 ½"
45°
24 x 36"
24 x 36"
50 x 50"
20 sec
530 lbs
TT60 Series
TT60-10
1000 lbs
6 ½"
60°
24 x 30"
24 x 36"
36 x 48"
30 sec
310 lbs
TT60-15
1500 lbs
6 ½"
60°
24 x 30"
24 x 36"
36 x 48"
50 sec
325 lbs