Products

SRT Series Stationary Container Tilters
SRT Series Stationary Container Tilters

2,000 and 4,000 lb. capacities
Position containers at any angle from 0˚ - 89˚
Internal 1 HP 115/1/60 power unit
Pendant control with magnetic backing for mounting
Optional foot-control available
Compact frame design
Designed to be lagged down to the floor
Fork channels for loading with a pallet jack or forklift
Flexible safety toe guards on forks
Custom design modifications available
Have a question or comment?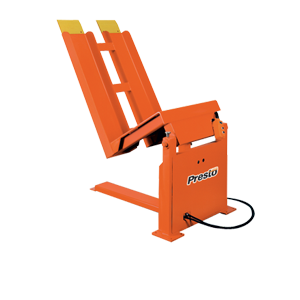 For dedicated container tilting applications, these stationary tilters are the perfect choice. Wide fork channels allow containers to be placed on them with a fork lift, stacker or even hand pallet truck.
Hand pendant control allows worker to tilt to any angle between 0˚ and 89˚ for easy access to container contents - even those at the bottom.
Choose from 2,000 or 4,000 lb. capacity.
Model
Number
Tilt
Capacity
Low
Height
Degree
of Tilt
Dimensions
W x L
Fork
Length
Lifting
Speed
Shipping
Weight
SRT Series
SRT20
2000 lbs
3/8"
89°
33 x 58"
40"
23 sec
885 lbs
SRT40
4000 lbs
3/8"
89°
33 x 58"
40"
24 sec
900 lbs