Products

PT/PTS Series Portable Container Tilters
PT/PTS Series Portable Container Tilters

2,000 and 4,000 lb capacities
85º tilt
12V DC motor
Optional 115V AC or air motors available
Push-button control with magnetic backing
12V maintenance free, leak-proof AGM battery
Internal battery charger
Foot-operated floor lock
Push handle lowers when in use for improved access
Have a question or comment?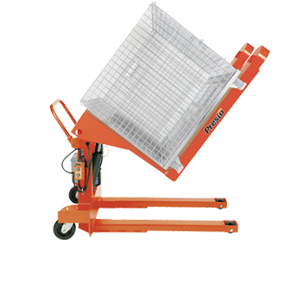 These portable, battery powered container tilters go anywhere they are needed. Choose them for applications that require sharing between multiple users or work cells, or where workers need to pick up and return containers to and from staging areas. Choose a Non-Straddle unit for use with most standard containers or a Straddle unit for use with containers that have reinforcing leg bars.
Available in 2,000 or 4,000 lb. capacities. All PT and PTS Container Tilters can tilt containers to any angle between 0˚ and 85˚.
Model
Number
Tilt
Capacity
Low
Height
Degree
of Tilt
Dimensions
W x L
Fork
Length
Fork
O.D.
Lifting
Speed
Shipping
Weight
PT Series - Non-Straddle
PT-20
2000 lbs
3 ½"
85°
34 x 54"
40"
24 ½"
37 sec
700 lbs
PT-40
4000 lbs
3 ½"
85°
34 x 61"
40"
26 ⅛"
30 sec
900 lbs
PTS Series - 50" I.D. Straddle
PTS50-20
2000 lbs
3 ½"
85°
57 x 54"
40"
24"
37 sec
950 lbs
PTS50-40
4000 lbs
3 ½"
85°
57 x 58"
40"
25"
30 sec
1150 lbs