Products

PowerStak PPS-3000 Series - Heavy Duty
PowerStak PPS-3000 Series - Heavy Duty

3,000 lb. Capacity at 24" Load Center
Telescoping Mast Has 125" Raised Height
Adjustable Straddle Base
Works Any Type of Pallet or Skid
24V DC / 1050 Watt Drive Motor
2 x 12 Volt 150 Amp/Hr Batteries
25 Amp 25 Volt Charger
Forged Steel Forks
10" x 4" Drive Wheel / Tandem Load Wheels
Have a question or comment?
3000 Lb. Capacity at 24 L.C.
Extended Mast to Service 10' Rack
Adjustable Straddle Powered Stacker
PPS-3000 Powered Walkie Stacker
Works with all pallet types - even closed bottom
Straddle Configuration Works with Closed All Pallet Types
Raised Height of 125"
Powered Drive - Simple to Operate
Two-Stage Telescoping Mast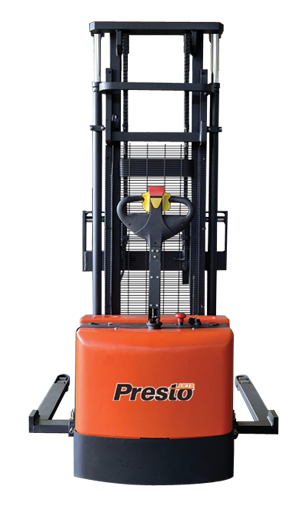 For heavier loads, the PowerStak Heavy-Duty is the answer. It is an industrial grade walkie that easily handles up 3,000 lbs. at a 24" load center. It's 125" raised height allows it to service rack up to 10 feet high.
The ergonomic control handle includes:
Switch redundacy for left/right hand operation of lift, lower and drive
Auto-reversing belly bump switch
Turtle speed control for precise positioning in tight quarters
Warning horn
The PPS-3000's instument panel includes a key switch, battery indicator, hour meter, emergency stop and battery charging receptacle.
Model
Number
Load
Capacity
Raised
Height
Low
Height
Dimensions
HxWxL
Fork
O.D.
Base/
Legs
Ship
Weight
PPS Series - Adjustable Base - Straddle (40-1/4 - 50" I.D.) - 24" Load Center
PPS3000-125AS
3000 lbs
125"
2 ½"
86 - 144 x 50 - 58 x 80"
8 ⅜ - 33"
40 ¼-50" / 48 ¼-58"
2640lbs