Products

DBP Series Double Scissor High Lift
DBP Series Double Scissor High Lift

Available in 1,000 and 1,500 lb. Capacities
Lift Heights to Over 59"
Pendant Control
2 Fixed / 2 Swivel Caster
Standard Platforms Up To 28" x 48"
Larger Platforms Available
12 Volt AGM Battery
Built-in 5 Amp Charger
Have a question or comment?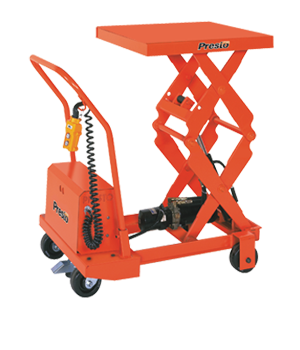 The double scissor design of these lifts provides for maximum vertical travel in a compact size. These portable lift tables have superior manueverability which makes them ideal for any application that requires loads be moved from one area to another.
Pushbutton control allows the operator to position the load at just the right height for loading, offloading or use as a workstation.
Portability also makes them ideal for sharing a lift between multiple work cells that may not have enough volume to justify a dedicated lift.
Model
Number
Load
Capacity
Raised
Height
Lowered
Height
Std. Base
& Platform
Maximum
Platform
Lifting
Speed
Shipping
Weight
DBP30 Series - 30" Travel - 24"W x 24"L Platform
DBP30-10
1000 lbs
40 ¾"
10 ¾"
24" x 24"
30" x 30"
8 sec
470 lbs
DBP36 Series - 36" Travel - 24"W x 36"L Platform
DBP36-10
1000 lbs
47 ¾"
11 ¾"
24" x 36"
30" x 42"
14 sec
505 lbs
DBP36-15
1500 lbs
47 ¾"
11 ¾"
24" x 36"
30" x 42"
20 sec
515 lbs
DBP48 Series - 48" Travel - 24"W x 48"L Platform
DBP48-10
1000 lbs
59 ¾"
11 ¾"
24" x 48"
30" x 54"
43 sec
650 lbs
DBP48-15
1500 lbs
59 ⅝"
11 ⅝"
24" x 48"
30" x 54"
43 sec
700 lbs