Products

Light-Duty Manual Scissor Lift Table
Light-Duty Manual Scissor Lift Table

1,000, 1,500 and 2,000 lb. capacities
Hydraulic lift operated by foot pump
Hand-controlled release for lowering
1/2" thick steel scissor legs - 1,000 & 1,500 lb. units
3/4" thick steel scissor legs - 2,000 lb. units
Wide-base models - up to 36" x 48" available
Oversized & custom platforms available
Hinged platform allows easy access to cylinders
Chrome-plated ram cylinders
Have a question or comment?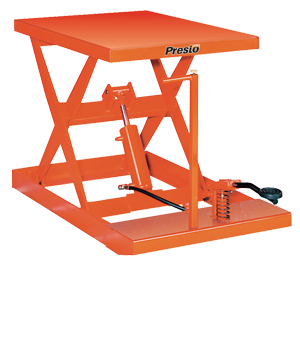 Designed and built for light-duty lifting and positioning tasks, these foot pump operated hydraulic scissor lifts offer a dependable, low-cost solution for intermittent duty cycles.
Capacities of 1,000, 1,500 or 2,000 lbs. are available.
Platform sizes range from 24" x 36" up to 48" x 54" are available.
Model
Number
Load
Capacity
Raised
Height
Low
Height
End/Side
Capacity
Std. Base &
Platform
Maximum
Platform
Lifting
Strokes
Shipping
Weight
XF24 Series
XF24-10
1000 lbs
29"
5 ¼"
1000 lbs
24 x 36"
36 x 42"
35
390 lbs
XF24-15
1500 lbs
29"
5 ¼"
1500 lbs
24 x 36"
36 x 42"
55
395 lbs
XF24-20
2000 lbs
31"
7 ¼"
2000 lbs
24 x 36"
48 x 60"
85
500 lbs
XF36 Series
XF36-10
1000 lbs
41"
5 ¼"
1000 lbs
24 x 48"
36 x 54"
46
440 lbs
XF36-15
1500 lbs
41"
5 ¼"
1500 lbs
24 x 48"
36 x 54"
69
455 lbs
XF36-20
2000 lbs
43"
7 ¼"
2000 lbs
24 x 48"
48 x 72"
130
650 lbs
WXF24 Series
WXF24-10
1000 lbs
29 ¼"
5 ¼"
1000 lbs
36 x 36"
48 x 42"
35
430 lbs
WXF24-15
1500 lbs
29 ¼"
5 ¼"
1500 lbs
36 x 36"
48 x 42"
55
435 lbs
WXF36 Series
WXF36-10
1000 lbs
41 ¼"
5 ¼"
1000 lbs
36 x 48"
48 x 54"
46
480 lbs
WXF36-15
1500 lbs
41 ¼"
5 ¼"
1500 lbs
36 x 48"
48 x 54"
69
485 lbs