Products

HLT Series Scissor Lift
HLT Series Scissor Lift

Standard hand control pendant
Optional foot control available
Heavy-duty hydraulic cylinders with chrome-plated rams
Polyurethane seals on cylinders
3/4" steel plate scissor legs
Lifetime lubricated bearings
Maintenance device
Custom designs available
Oversized platforms available
Have a question or comment?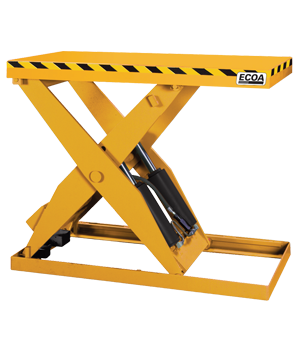 ECOA's HLTx Series Lift Tables are high-speed electrohydraulic scissor lifts with capacities from 2,500 to 6,500 lbs., and lifting heights up to 70 in.
HLT Series Lifts are available with wide range of platform sizes as well as options and accessories that allow you to configure them to best suit your specific application.
All ECOA Lift Tables are designed and constructed for heavy-duty applications under the toughest working conditions, offering years of trouble-free operation.
Vertical
Travel
Model
Number
Capacity
Standard
Platform
Max
Platform
Base
Low
Height
Raised
Height
Lifting
Speed

(sec)

Motor
HP
Ship
Weight
25
HLT2-025-24
2500
24 x 36
48 x 60
24 x 36
7.25
31
27
1
570
24
HLT2-035-24
3500
24 x 36
48 x 60
24 x 36
7.25
31
27
1
570
24
HLT2-045-24
4500
24 x 36
48 x 60
24 x 36
7.25
31
40
1
620
24
HLT2-065-24
6500
24 x 36
48 x 60
24 x 36
7.75
31.75
44
1
600
24
HLT3-025-24
2500
36 x 36
60 x 60
36 x 36
7.75
31
32
1
740
24
HLT3-035-24
3500
36 x 36
60 x 60
36 x 36
7.75
31
32
1
740
24
HLT3-045-24
4500
36 x 36
60 x 60
36 x 36
7.75
31
34
1
790
24
HLT3-065-24
6500
36 x 36
60 x 60
36 x 36
7.75
31.75
44
1
675
36
HLT2-025-36
2500
24 x 48
48 x 72
24 x 48
7.25
43
30
1
720
36
HLT2-035-36
3500
24 x 48
48 x 72
24 x 48
7.25
43
38
1
750
36
HLT2-045-36
4500
24 x 48
48 x 72
24 x 48
7.25
43
22
1.5
770
36
HLT2-065-36
6500
24 x 48
48 x 72
24 x 48
7.25
43.25
22
3.2
650
36
HLT3-025-36
2500
36 x 48
60 x 72
36 x 48
7.75
43
46
1
900
36
HLT3-035-36
3500
36 x 48
60 x 72
36 x 48
7.75
43
46
1
900
36
HLT3-045-36
4500
36 x 48
60 x 72
36 x 48
7.75
43
26
1.5
960
36
HLT3-065-36
6500
36 x 48
60 x 72
36 x 48
7.25
43.75
22
3.2
825
36
HLT4-025-36
2500
48 x 48
72 x 72
48 x 48
7.75
43
46
1
990
36
HLT4-035-36
3500
48 x 48
72 x 72
48 x 48
7.75
43
46
1
990
36
HLT4-045-36
4500
48 x 48
72 x 72
48 x 48
7.75
43
26
1.5
1050
36
HLT4-065-36
6500
48 x 48
72 x 72
48 x 48
7.25
43.5
22
3.2
1100
48
HLT2-025-48
2500
24 x 64
48 x 88
24 x 64
7.25
55
32
1.5
900
48
HLT2-035-48
3500
24 x 64
48 x 88
24 x 64
7.25
55
32
1.5
900
48
HLT2-045-48
4500
24 x 64
48 x 88
24 x 64
7.25
55
39
1.5
950
48
HLT2-065-48
6500
24 x 66
48 x 96
24 x 66
8
56
27
3.2
1050
48
HLT3-025-48
2500
36 x 64
60 x 88
36 x 64
7.75
55
34
1.5
1070
48
HLT3-035-48
3500
36 x 64
60 x 88
36 x 64
7.75
55
34
1.5
1070
48
HLT3-045-48
4500
36 x 64
60 x 88
36 x 64
7.75
55
38
1.5
1120
48
HLT3-065-48
6500
36 x 64
60 x 96
36 x 66
8
64
32
3.2
1200
48
HLT4-025-48
2500
48 x 64
72 x 88
48 x 64
7.75
55
30
1.5
1160
48
HLT4-035-48
3500
48 x 64
72 x 88
48 x 64
7.75
55
30
1.5
1160
48
HLT4-045-48
4500
48 x 64
72 x 88
48 x 64
7.75
55
38
1.5
1250
48
HLT4-065-48
6500
48 x 66
72 x 96
48 x 66
8
56
27
3.2
1250
60
HLT4-025-60
2500
54 x 86
84 x 120
54 x 86
10
70
20
3
1725
60
HLT4-035-60
3500
54 x 86
84 x 120
54 x 86
10
70
20
3
1725
60
HLT4-045-60
4500
54 x 86
84 x 120
54 x 86
10
70
30
3
1800
60
HLT4-065-60
6500
54 x 86
84 x 120
54 x 86
10
70
30
3.2
1800

GRAVITY CONVEYOR TOPS
Roller conveyor mounted to platform transferring item on or off of lift. For integration with conveyor systems.

BALL TRANSFER TOPS
Platforms can be supplied with pneumatic ball transfers to allow for easy repositioning of items for access to all sides or transferring loads on to or off of lifts.

FORK POCKETS
Allow lift to be easily picked up and moved with a fork lift.

PORTABILITY / SEMI-LIVE ARRANGEMENT
A variety of portability options are available including 4 casters, or semi-live with skid spotter

ACCORDIAN / BELLOWS SKIRT
Vinyl pleated covering in yellow and black keeps debris from collecting under lift platform

PIT MOUNTED UNITS
Lifts can be configured for use in a pit. This allows the platform to sit flush with the floor when not in use to minimize obstructions.

OVERSIZED PLATFORMS
Platforms larger than standard are available. See chart above for MAX Platform dimensions.

12V DC & 24V DC POWER UNITS
Lifts can be configured for DC power with 12 volt or 24 volt motors.

SUPER CYCLE
For extremely high duty cycles lifts can be equipped with a Super Cycle Package that extends recommend time between maintenance to 200,000 cycles

LOWER LEVEL LIMIT SWITCH
prevents the lift table from traveling below a preset level.

VELOCITY FUSE
Prevents lift from falling should hydraulic hoses be accidentally severed.

UPPER TRAVEL LIMIT SWITCH
Prevents lift from traveling past a preset height.

WATER WASH DOWN MOTOR PACKAGE
NEMA 4 motor for use in wash down applications.

OPTIONAL POWER UNIT UPGRADES
Motor upgrades for increased lifting speed