LiftStik

3 models available with 185, 220 or 445 lb. capacity
Lift heights up to 65"
Continuous lifting chain provides two vertical travel speeds
Smooth starts and stops and precise load positioning with zero drift
Loads are centrally and evenly distributed over all 4 wheels for maximum stability
Push-button corded remote control mounted on handle
Two-speed function, both up and down
Integral battery charger
Battery charge indicator is easily visible
Ball bearing wheels roll easily on all surfaces
Rear wheels equipped with toeguards
The mast and the motor covers are sealed
Mechanical overload protection
All models come standard with a platform mounted on the forks
Have a question or comment?
LiftStik PLS52-185 - 185 lb. Capacity - 56" Raised Height
PLS60-220 - 220 lb. Capacity - 65" Raised Height
PLS48-450 - 445 lb. Capacity - 52" Raised Height - Fork Configuration
LiftStik with Optional Reel Mandrel
Maneuvers Easily in Server Rooms
Two LiftStiks Used for Blanks and Finished Parts at CNC Machine
LiftStik Used at Storage Shelves
LiftStik Used To Load Items into Vertical Carousel
LiftStik Used in Picking Operation at Vertical Carousel
LiftStik Used for Machine Feeding
Retrieving Small Crate with Forks
LiftStik with Forks and Small Skid
PLS48-450 Transporting Crate
Quality Control / Inspection Station
Always-In-Stock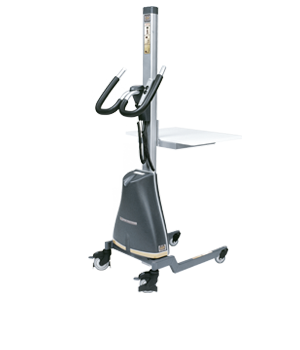 There's never been a more versatile lifter/transporter than the Lift Stik series from Presto. With capacities ranging from 185 lbs to over 400 lbs, there's almost nothing these sleek, user-friendly machines can't do.
A continuous lifting chain provides two vertical travel speeds with smooth starts and stops. It also allows for precise load positioning with zero drift. And, because it's mechanical, there's no risk of hydraulic fluid leaks so the Lift Stik is suited for a wide range of light industrial, laboratory and even office applications.
The narrow mast design allows operators a clear view of where they are traveling. Two fixed and two swivel casters give LiftStik exceptional maneuverability even in congested areas. Rear wheels are equipped with toe guards and foot-operated floor locks.
Model
Number
Load
Capacity
Raised
Height
Low
Height
Dimensions
HxWxL
Platform
W x L
Lifting
Speed*
Power
Unit
On
Board
Charger
Shipping
Weight
Unit
Weight
LiftStik Series
PLS52-185
185 lbs
56"
5"
63 x 23 ½ x 31"
23 ½ x 18 ½"
17 sec
24VDC
115 Volt
105 lbs
86 lbs
PLS60-220
220 lbs
65"
5 ⅛"
76 x 23 ½ x 33"
23 ½ x 18 ½"
20 sec
24VDC
115 Volt
147 lbs
100 lbs
PLS48-450
445 lbs
52"
4 ⅛"
63 x 22 x 40"
22 x 23 ½"
22 sec
24VDC
115 Volt
190 lbs
142 lbs

*Speed of unit without load

OPTIONAL ATTACHMENTS

V-CRADLE


Stainless steel platform with 360˚ rotation for handling rolls, coils or cylinders.

LIFTING ARM WITH LIFT BOLT
Mounts to mast. For overhead handling of objects with chain or lifting straps.

REEL MANDREL
Cylindrical "boom" for handling rolls or coils.

REEL ROTATOR
Mandrel expands to engage the roll core. Roll can then be reoriented from "eye-to-sky" to "eye-to-horizon".