News & Events

LOW-PROFILE TURNTABLE IS IDEAL FOR MANUAL PALLET LOADING / UNLOADING
LOW-PROFILE TURNTABLE IS IDEAL FOR MANUAL PALLET LOADING / UNLOADING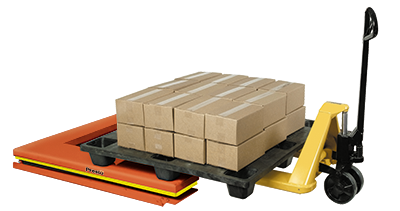 U-Lift hydraulic lift tables from Presto Lifts feature a unique platform that is open on one side to allow the forks of a hand pallet truck to roll into it. Because of the U-Lift's low profile 3¼" platform, as the pallet jack moves into the lift, the pallet itself moves over the three closed sides. When the pallet jack is lowered, the pallet sits securely on the platform.

Ideal for manually loading and unloading pallets, the U-Lift offers workers unobstructed access to all four sides of a pallet load. Operator controlled lifting and lowering allows loads to be precisely positioned at just the right height for easy access with no bending.

Because workers can load and unload the U-Lift with a hand pallet truck, they can work at their own pace without having to wait for a forklift to load or unload the next pallet.

The U-Lift operates on standard 115/1/60 power. It has a 2,200 lb. capacity. The U-Lift's 48" x 53" platform has a lowered height of 3¼ inches and a fully elevated height of 31½. The U-Lift works with open bottom pallets and skids. For safety, a full perimeter toe guard stops downward travel on contact.